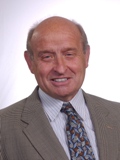 Winston J. Churchill
Partner
Mr. Churchill has been Managing General Partner of SCP Partners since its founding in 1996, and has over twenty-five years experience in private equity investing. Previously, he had formed Churchill Investment Partners, Inc. in 1989 and CIP Capital, L.P., another venture capital fund, in 1990. Prior to that, he was a Managing Partner of a private investment firm that specialized in leveraged buyouts on behalf of Bessemer Securities Corporation.
From 1967 to 1983, he practiced law at the Philadelphia firm of Saul Ewing LLP and served as Chairman of its Banking and Financial Institutions Department, Chairman of the Finance Committee and a member of its Executive Committee.
He is a Director of Amkor Technology, Inc., Griffin Land & Nurseries, Inc. and Innovative Solutions & Support, Inc. as well as a number of private companies in the technology and life sciences spaces. From 1989 to 1993, he served as Chairman of the Finance Committee of the Pennsylvania Public School Employees' Retirement System.
He is currently a trustee of American Friends of New College, Oxford, England, The Gesu School and Scholar Academies, as well as a trustee fellow of Fordham University, trustee emeritus of Immaculata University and a former trustee of Georgetown University, where he chaired the Committee on Medical Affairs, and served as a member of the board of Medstar Health, a $4 billion regional healthcare system.
He was awarded a B.S. in Physics, summa cum laude, from Fordham University followed by an M.A. in Economics from Oxford University where he studied as a Rhodes Scholar, and a J.D. degree from Yale Law School.